The model of relationship development describes Quizlet.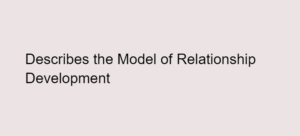 The model of relationship development refers to theories and frameworks that attempt to explain how relationships between individuals progress and evolve over time. Different models may focus on various aspects of relationship development, including the stages or phases relationships go through, the factors that influence relationship formation, and the patterns of interaction between individuals. Here are some common elements often included in models of relationship development.
1. Initiation or Entry Phase:
This is the initial stage where individuals meet and form first impressions.
Factors such as physical attraction, similarity, and proximity can influence the initiation of a relationship.
2. Experimentation Phase:
In this stage, individuals engage in small talk and casual interactions to learn more about each other.
Testing the waters and discovering common interests are key aspects of this phase.
3. Intensifying or Building Phase:
The relationship moves from a more casual to a more personal and intimate level.
This phase involves self-disclosure, increased emotional connection, and a deepening commitment to the relationship.
4. Integration Phase:
Individuals become a part of each other's social circles and lives.
This phase often involves shared activities, friends, and a blending of personal identities.
5. Bonding Phase:
The relationship becomes more formalised through marriage, a commitment ceremony, or another symbolic gesture. Formalisation of the relationship may involve legal, social, or religious recognition.
6. Differentiation Phase:
In some models, this phase represents the development of individual identities within the context of the relationship.
It involves maintaining a sense of self while being part of a couple.
7. Circumscribing Phase:
This phase is characterized by a decrease in communication and the establishment of boundaries.
Individuals may start avoiding certain topics or spending less time together.
8. Stagnation Phase:
The relationship becomes stagnant, and there is a lack of growth or progress.
Communication may decrease, and the relationship may feel routine or unfulfilling.